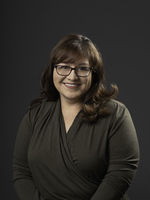 Martha L. Melendez, MD
Program Director
Medical School: University of California, Davis School of Medicine; Davis, California
Residency: Arrowhead Regional Medical Center, Colton, California
Fellowship: Arrowhead Regional Medical Center Obstetrics and Gynecology Fellowship, Colton California
Responsibilities: Program Director of the Family Medicine Residency Program; Teach residents and medical students in the ambulatory and inpatient settings.
I was raised in East Los Angeles and was fortunate to attend the University of California, San Diego for my undergraduate studies. This was followed by matriculation at the University of California, Davis School of Medicine where I received intensive introduction to family medicine. It is through my time in residency and living in a community in need that I realized the intensive healthcare demand to have competent and compassionate specialists in family medicine. I enjoy spending time with my family, which includes my very patient and supportive husband, two active and talented teenage boys, and a very spoiled and rambunctious chocolate labradoodle.

Every patient deserves to have a family practitioner. It is my commitment to contribute to the education and training of future family practitioners that will serve Murrieta and its surrounding communities.