Whether this is your first child or you've been through this journey before, we want your birth experience to be safe, healthy and unforgettably beautiful.
We offer the highest quality care for moms and babies in a comforting, state-of-the-art facility. Our physicians and nurses are on hand 24 hours every day for all of your medical needs before, during and after your baby arrives.
Why Choose Us for Mother and Baby Care
OUR FAMILY BIRTHING CENTER OFFERS
Board-certified OB doctors available in the hospital 24 hours a day, ensuring a safe birth anytime day or night.
A new OB Emergency Department, providing OB emergency care to all pregnant moms in the community 24/7.
Five all-private labor and delivery suits and twelve spacious postpartum rooms, supporting your comfort, safety and privacy.
One to two hours of uninterrupted skin-to-skin bonding right after birth, allowing baby and parents to get to know each other.
Breastfeeding support both in the hospital from International Board Certified Lactation Consultants and after you go home at our outpatient breastfeeding clinic.
A new Level II NICU capable of providing treatment for babies who need special care. Our NICU is the only one in the region offering overnight accommodations for parents so they can stay with their baby during NICU care.
FAMILY-FIRST APPROACH
We emphasize a family-first approach for baby, parents, siblings and family no matter what time of day your baby arrives. The Family Birthing Center also champions couplet care, which promotes mother-infant bonding and helps establish a successful breastfeeding experience. Each of our private suites has in-room accommodations for dads or birth partners so you don't miss a single moment.
POST-BIRTH FAMILY BONDING
After baby is born, you'll have one to two hours of uninterrupted skin-to-skin bonding time. This special time helps the newborn adjust to life outside the womb and get a good start with the first breastfeeding. There will be no routine separation of stable moms and babies, even after Cesarean births. Skin-to-skin holding can begin in the operating room.
BREASTFEEDING SUPPORT
In the hospital
During your stay in the hospital, you'll receive breastfeeding support from our experienced, skilled and helpful International Board Certified Lactation Consultants. These experts help you achieve your breastfeeding goals.
After going home
Once you return home, you'll receive breastfeeding support at our hospital-based Mother Baby Connection Breastfeeding Clinic. There, you'll also have access to weight checks and bilirubin checks.
Our outpatient breastfeeding clinic welcomes all moms, no matter where baby was born. You may call the clinic for appointments or for breastfeeding questions at 951-704-1325.
NEW LEVEL II NICU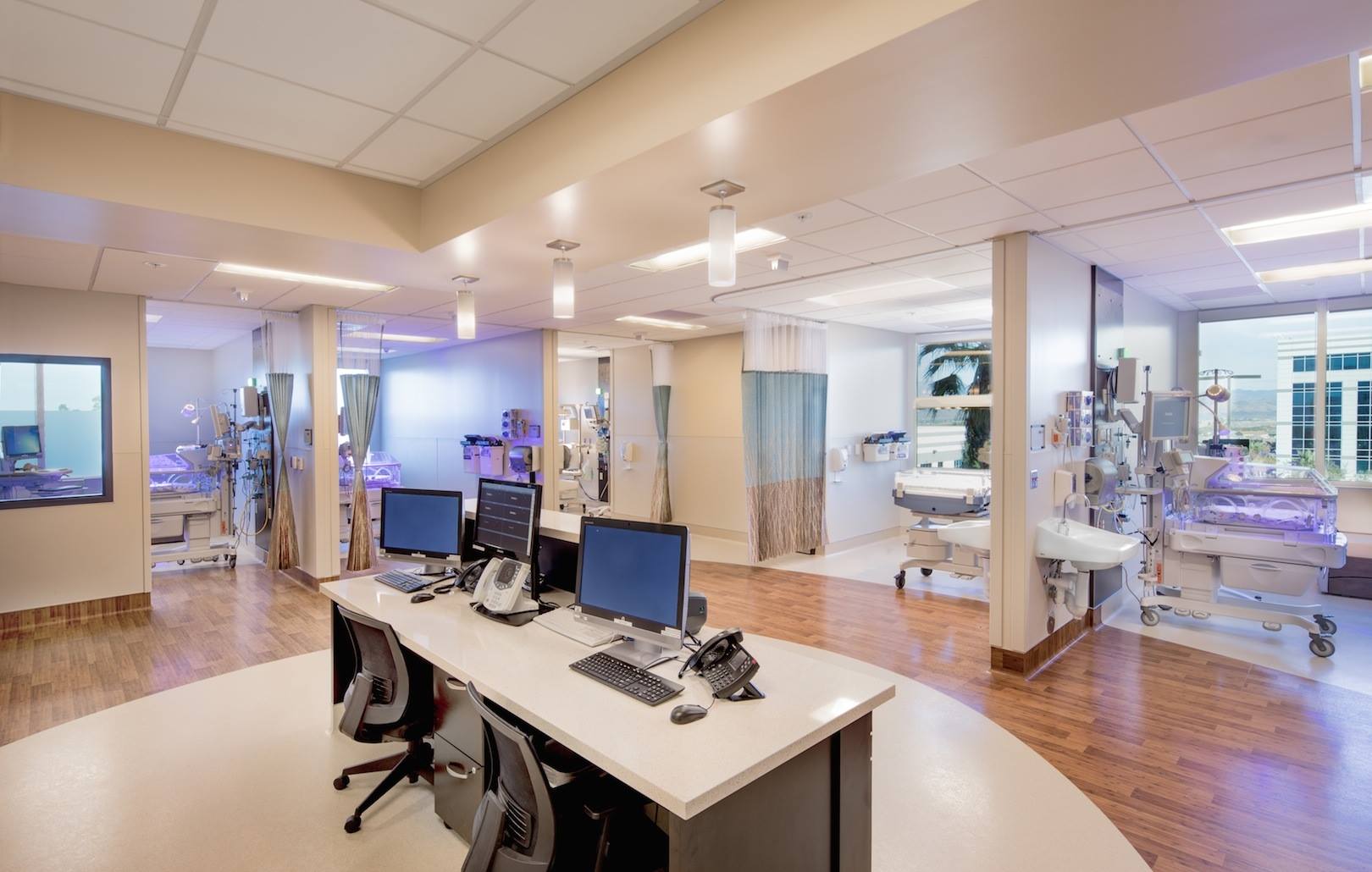 Our Level II Neonatal Intensive Care Unit (NICU) treats babies who need special care in the newborn period. Six private rooms allow parents of preterm and sick babies to stay in the same room as their little ones overnight. These accommodations make our state-of-the-art NICU the first of its kind in the region.
Parents are able to stay connected and to actively participate in their baby's care during the NICU stay. This model of family-centered developmental care promotes physical and emotional healing for babies and families, supporting our hospital's mission to provide whole-person care.
All babies in our NICU receive the best possible medical care from physicians who are board certified in neonatal and perinatal medicine. Our physicians are also on staff in the Level IV NICU at Loma Linda University Children's Hospital. This gives us direct access to the resources and experience of every pediatric subspecialty when the need arises.